If you are planning to have your own website, then it is natural that you will want to look for a domain name. The domain name is not only important because it represents your website or your company, it is also important for search engine optimization. Choosing the right domain name is a tedious task because of the unavailability of most of the names. So, in this article, you will get to know about the domain tools that you can use to make your task of choosing the domain name easier.
It is a web domain name suggestion tool where you can look for a name for your website by using a search engine. It shows you the number of domains available based on your search. All you have to do is type a keyword that you want it to be there in your domain name. It also has the filter option using which you can narrow down your search as per your choice. Filter options can be alphabetical order, length, popularity, and domain names that start or end with the keyword you have entered. You can also see 30+ most popular domain names on that list. The search result will appear categorically in different colors, where yellow represents the favorite ones, red represents already taken and the green represents available. Using the availability checker on Lean Domain Search Engine, you can add a domain name to favorite list and check if it's available.
You can also check if your domain name is a popular name on the internet by just clicking on the bottom right option on the results page. Apart from these, if you want to quickly check your past searches, you can do that as well.
If you don't know what should be your website's domain name, then Dot-o-Mator is the right tool for you. It has categories from which you can choose what category you want for the beginning and ending of your domain name. If you want random domain name options to choose your domain name from, you will get it from their Web 2.0 Name Generator.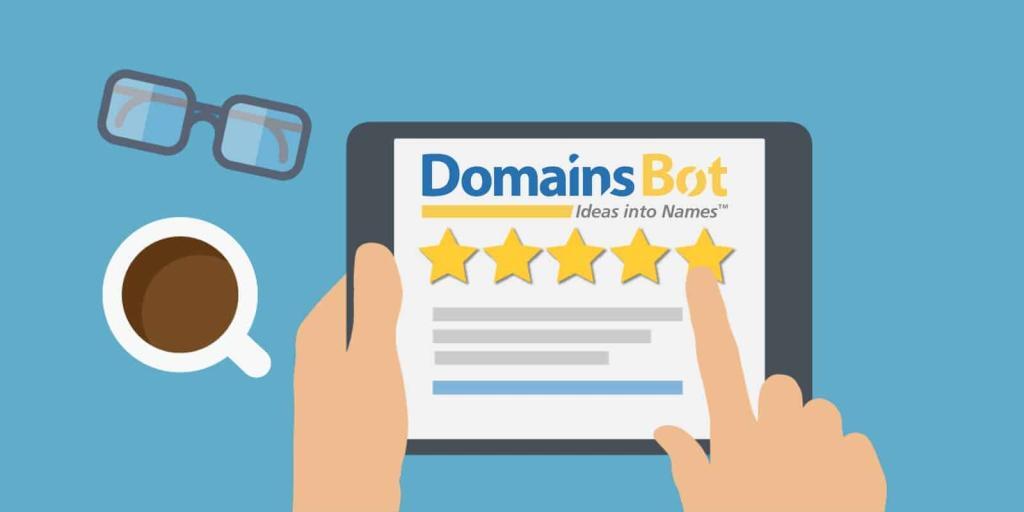 In Domains Bot, you can type the keywords in their search engine. Depending on your search, you will find combined words, words ending with the keywords, or words that are similar to your search. You can also check the availability of the domain name you want. Domains Bot also lets you purchase the domain name through links to domain registrars. It also assists you with your search by giving you filter options of language, synonyms, etc.
Are you someone who absolutely love colors? Or do you want the search of your website name to be colorful, if yes, then Name Mesh is the exact tool that you are looking for. It has a very colorful search tool, where there are different color identification for different statuses. For example, the green color indicates availability of most popular names, orange for availability of new names, light-green for alternatives, and so on. Apart from this, you can also lookup for advice from managers, website owners, and designers. The unique feature about Name Mesh is that it allows you to mark favorites and hide the registered domains. Using this feature, you can generate the best of the names that you are looking for your website.
Domain Puzzler is a very simple tool which lets you play with the wide range of options that it has. You can add keywords to look for ideas by combining your search. The USP of Domain Puzzle is that you can add for than one keyword to the search engine. You can also create a favorites list from your search results, and do an advanced search according to your requirement.
If you are looking for filtering options in your tool to have a better search of the right domain name, Bust a Name is the tool for you. It gives you a wide range of filter options to choose from. For example, you can use filter option for a keyword, and to optimize the search, you can look for more options that start with or end with your keyword. It also has a filter for the character limit. You can also check if a domain name is available. Also, it gives you suggestions depending on your search for other similar keywords. In case you are not sure about a keyword, or you don't have a specific idea about it, you can click the "Make a Random Domain" button.