cPanel is surely a great way to manage your website, update its contents, and add new items to your website. However, the biggest problem with cPanel is that it isn't free of cost and you need to pay high fees for using it. The cost of one month's subscription of cPanel is around $15. This is much higher than what individual website owners and small companies pay for their hosting plans. A price of $15 is nothing for big companies or enterprises but is a burden for those who have just started a new website.
Well, the good news here is you can save this cost by using some cPanel alternative software. There are several free to use but equally useful software which you can use in place of cPanel and can manage your website effortlessly.
These are some of the best alternatives to cPanel you can use absolutely free of cost.
The first in our list is Webmin panel. Webmin is a great cPanel alternative, and there is no need to pay for using it. It is a feature-rich and very easy to use application and everyone can use it without any worries. You can do almost everything using Webmin, like creating a backup of configuration files, monitor bandwidth, secure SSH connections, administer users, etc.
You can also combine this control panel with several themes which enhance the user experience and maker working on the Webmin simple and secure.
YunoHost isn't very comprehensive software like Webmin and other applications mentioned above. But it is still a very useful application that can be used for installing various self-hosted applications. This makes it a great choice for beginners who want some basic applications quickly. YunoHost is developed using python under open-source GL license. Yuno also supports Debian 8 officially and it is absolutely free of cost. But the problem is you will not get features like firewall management and other important tools.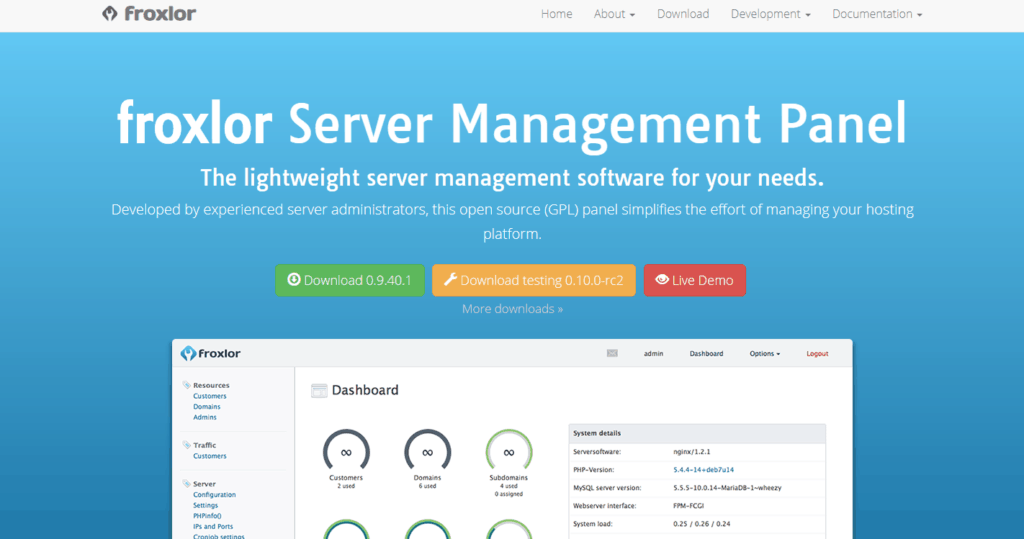 The next in our list is Froxler which can be a simple and reliable application for website management. Froxler is an application which comes with all the tools you need to manage your hosting platform. This is open source GPL software designed by expert server administrators and you get plenty of features like MySQL management, PHP Configuration, etc.
You can install this on Debian which is officially supported. Froxler can be used with Ubuntu as well but the installation process might not be very simple.
VestaCP is yet another very efficient panel for the management of your hosting platform. The best thing about VestaCP is that it gives you the freedom to work via command line if you don't want to use the web interface. The panel is written in Bash and is compatible with different applications. Some of the useful features of VestaCP are email solutions, monitoring solutions, backup features, NGINX, and more.
The panel is licensed with GNU and it can be used with CentOS, Debian, Ubuntu, etc. All this makes it a great alternative for cPanel.
IPSConfig can be a great choice for users who demand a lot of features and functionality. It might be free, but it has got some really amazing features, and it gives a tough fight to cPanel. The best feature or capability of IPSConfig is that you can manage more than one server with its help. There is no need to install IPSConfig on each server that can save you from a lot of hard work.
You can also use this feature to manage mail server, NGINX web servers, Monitoring, DNS, and more. Overall IPSConfig is one of a few free alternatives to cPanel that has got everything you need and it can make your life a bit easier.
CentOS Web Panel is among the favorite choice of users for managing their site because of its clean interface and easy to use and tons of amazing tools and features. If you are running CentOS on your server then I doubt there is anything better than the fast and secure CentOS Web Panel. You can use this free panel for managing your server, firewall, MySQL Database, SSL Certificates, Self-hosted emails, backups, and more.
There is also a very useful feature of this panel known as Auto-Fixer. This can be a very helpful tool which finds out errors and mistakes and tries to fix them automatically, saving you from a lot of troubles.
All these are the best alternatives to cPanel that makes your life a lot easier while saving you money at the same time. These panels mentioned above are safe to use and comes with all the necessary features you need to manage your website easily and effectively. Go ahead and give it a try to find the one which best suits your needs.