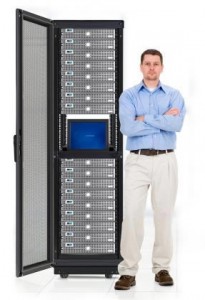 It is well-known that dedicated hosting is the preferred choice for business professionals and online entrepreneurs, and for good reason – it gives you exclusive access to a web server that is only used to handle the computing needs of your site or applications. On the other hand, a shared or VPS plan only grants you access to an allocated portion of the server, so you don't have as much control or power. However, there are two main types of dedicated hosting to choose from – managed and unmanaged. Unmanaged plans are cheaper; so many businesses try to cut costs by opting for one of these instead of a managed plan. Nonetheless, the following paragraphs describe why managed hosting is a necessity for most businesses.
Convenience and Cost
With a managed plan you don't have to worry about taking care of the technical aspects of keeping your server functioning optimal. Instead, this task is assigned to a qualified technician or administrator who is trained in server administration and optimization tactics. As a business owner you most likely don't have the time or patience to deal with technical difficulties or server-side operations. Although managed plans cost a bit more, they are more of a streamlined solution, which is why most hosting companies only offer this kind of dedicated hosting. Ultimately, even though you may save a little bit of money on the initial cost of the plan by choosing an unmanaged plan, it will probably cost you more money in IT support and/or time lost.
Administrative Assistance
If you do decide to brush up on your IT skills and start experimenting with the backend of your server, a managed dedicated plan will not only give you the freedom to do so, it will also give you access to the knowledgeable support staff that can guide you through processes as needed. In essence, managed dedicated hosting gives you all of the benefits that an unmanaged plan does, including the ability to perform administrative functions independently, yet also gives you the option to leave the difficult techie stuff up to the hosting company's in-house employees. If you wanted to outsource the work someone else with an unmanaged plan you would either have to the host extra for IT support, or you would have to hire someone to perform IT work on your behalf remotely.

Reliability and Redundancy of managed hosting
With a managed hosting plan you don't have to worry about downtime or performance issues because your server is protected and maintained by a professional administrator who does routine checkups and troubleshooting procedures. Furthermore, your data is kept safe a all time because the server is paired with a backup server that can be utilized in the event of hardware issues. In fact, even if the server that your site is stored on all of the sudden crashes and ceases to work, your site and all of its data will be transferred and restored on another machine within the network. This redundancy makes managed hosting a lot more reliable than unmanaged hosting because an unmanaged solution offers no such redundancy or safeguards.
Conclusion
Unmanaged appears to be cheaper on the surface, but in reality, all of the extra pitfalls make it a much costlier solution than managed hosting. A managed plan takes away all of the technical hassles and lets you focus solely on increasing the profitability of your business. You don't need any programming or server administration knowledge to get started with a managed solution, yet it provides all of the same benefits and features as an unmanaged plan.