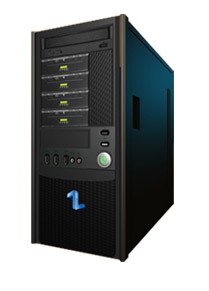 Dedicated hosting is a service that allows you rent remote access to a web server that is only devoted to processing the requests and data needs of your web sites and applications. This differs from a conventional shared or VPS plan, which only gives you access to a portion (allocated partition) of a server. The private hosting environment offered with dedicated hosting provides a number of advantages that make it the preferred solution amongst web professional, entrepreneurs, and software developers. The following are three attributes that make dedicated hosting one of the most sought after solutions in the web hosting industry:
Full Server Control
With shared or VPS plan you have limited control over the administrative functions of the server. You cannot install additional software, other than the apps included within your control panel, without the permission of the server administrator.
With a dedicated plan you are effectively assigned as the server administrator, as you have the freedom to install whatever software you'd like and run any script you'd like. However, a managed dedicated hosting solution is still ideal for novices because you are not required to perform maintenance task to keep the server running smoothly, although you have the ability to do so if you want to.
By having full control over your server you can avoid limitations that keep certain site extensions from operating at their full power, and you can utilize software and scripts that shared plan holders cannot. Furthermore, you can install remote server monitoring applications that allow you to remotely control and observer server functions from anywhere you can access the internet.
Better Overall Performance
Since you don't have to share your server with anyone else it is harder to overburden the hardware, so performance tends to be superior to that provided by a shared or VPS solution. Independent studies and surveys have shown that dedicated servers experience less downtime and facilitate faster page loading times, ultimately resulting in a higher rate of visitor satisfaction. When traffic levels rise and your site becomes increasingly popular you don't have to worry about visitors being deterred by page loading errors and incomplete frame loading.
Most dedicated servers can accommodate tens of thousands of daily visitors without a problem, and an enterprise solution can serve pages to hundreds of thousands of visitors simultaneously. In addition, most hosting companies offer top-notch high priority support to their dedicated customers because these plans typically cost the most, so dedicated plan holders are there highest paying customers.

Access to More IP Addresses
With a dedicated plan you can request additional IP addresses from your hosting provider for each of your sites. This is helpful when you're running a network of sites that are interlinked to each other because search engines determine a site's individuality based on its IP address. If all of your sites are on the same IP address and they are linking to each other, search engines will recognize that this is essentially the same web entity, so you can't pass authority from one domain to another. Dedicated plans give you access to extra C Class IPs that are useful for search engine optimization purposes, and help you establish the uniqueness of each site. Although you'll have to pay extra for each IP address that you use, this option is not even available with other types of hosting accounts.  The ability to assign different IP addresses to each one of your sites helps you establish a link building network that is not penalized in search engines due to unethical interlinking.