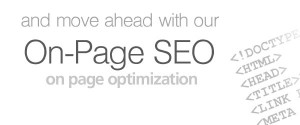 While posting quality content to your site is a great way to entertain and inform visitors, there are other aspects of on-page optimization to consider if you're trying to rank highly in search engines. The following 10 on-page SEO pointers will guide you in the right direction:
Optimize Page Titles and Meta Descriptions
Using the appropriate page titles and meta-descriptions will give search engine bots the ability to index and categorize your pages more efficiently. If you're using a standard HTML/PHP website you can simply paste the following in the head section of the page:
<Title> Page Title Here</Title>
<meta name="description" content="Page Description" />
<meta name="keywords" content="Page Keywords Here" />
If you're using WordPress you can use the All-in-One SEO plugin to conveniently insert the above attributes before publishing each post/page.
Eliminate Duplicate Content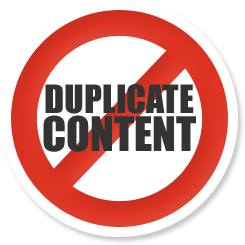 You've probably heard of duplicate content penalties before, and are therefore very cautious about posting articles on your site that have already been posted on other sites. Many people use Copyscape to ensure that their content is completely unique in the eyes of search engines. Surprisingly, this is a common misconception, as many news sites and blogs syndicate content from other websites, and as long as a link to the original author's website is left intact no penalization occurs. It's more important to ensure that you don't have two copies of the same content on one website, as this could actually result in duplicate content penalization. Unfortunately, by default WordPress blogs contain two copies of homepages, archive pages, and category pages. Using the All-in-one SEO plugin will prevent this issue by adding NoIndex and NoFollow attributes to duplicate pages so that they're not indexed by bots.
Understand Keyword Placement and Density
SEO specialists recommend inserting your main keyword within the first 25 to 50 words of a page's content, then once again in the middle of the content, and in the last 25 to 50 words. As a rule of thumb, your main keyword should occupy no more than 1 to 2% of the overall content. So if you have a 500 word article you wouldn't want more than 5 to 10 words to consist of primary keywords. However, using related longtail keywords (phrases of two, three, and four words that are relevant to your primary keyword) is encouraged, as long as you don't overdo it. And you should never overlook this one of the vital on-page SEO pointers in any situation.
Create an Effective Internal Linking Structure
Internal linking is basically the practice of linking the pages on your blog/site together so that it is easier to navigate for both visitors and search engines. Bots index the Internet by following links and then indexing the pages that they visit, so linking to other pages on your site will help bots find and index them faster. Interlinking is also a great way to keep visitors on your site longer (an attribute that search engines record as "page visit time"), thereby creating additional opportunities to market your products/services.
Use Alt Tags and Width/Height Attributes for Images
When you post an image to your site be sure to describe it using the alt tag, as this will create the opportunity for more organic traffic originating from image searches. For example, if you post a picture of an athlete on your sports news blog and give it an alt tag that says "[athlete's name] scoring against [other team]" you may receive visits from people who search for related queries within the image search function of Google. Using the width/height attributes is a good way to let browsers and search engines know the size dimensions of an image before it loads, thereby facilitating faster indexing and page loading.
Make Pages Aesthetically Appealing and Use Media
Although search engines don't necessarily judge the aesthetic features of a webpage in the way a human would, having a visually appealing website will encourage visitors to stick around longer and return, which will result in higher search engine rankings. Try to keep your content neatly organized and easy to read (avoid odd color combinations, small font, large blocks of text etc.). Another great way to keep visitors on your pages longer is to embed a relevant video at the top of the page and set it to auto play so that they'll begin watching it as soon as the page loads.
Edit Your Robots.txt File

Robots.txt file is simply a basic text page that lets search engines know which pages they should and shouldn't index. This file can be useful for keeping duplicate content from being indexed, and you can also use it to point a search engine in the direction of your sitemap URL (a document that simplifies the indexing process for bots). To use a robots.txt file simply create a basic text file with the name "robots.txt" and then upload it to your main directory on your blog/site. The following is an example of a robots.txt file used on a WordPress blog:
sitemap: http://www.examplesite.com/blog/sitemap.xml
User-agent: *
Disallow: /cgi-bin/
Disallow: /wp-admin/
Disallow: /wp-includes/
Disallow: /wp-content/
Disallow: /archives/
Disallow: /go/
disallow: /*?*
Disallow: /Category
Disallow: *?replytocom
Disallow: /wp-*
Disallow: /author
Disallow: /comments/feed/
Disallow: /tags
User-agent: Mediapartners-Google*
Allow: /
User-agent: Googlebot-Image
Allow: /blog/wp-content/uploads/
User-agent: Adsbot-Google
Allow: /
User-agent: Googlebot-Mobile
Allow: /
Post Informative, Error-Free Content
Search engines have integrated spellcheckers and grammar checkers into their algorithms, so they can detect when a page is riddled with mistakes, and rank it accordingly. In addition, visitors will also notice these mistakes and probably won't stick around for too long afterwards. Posting informative, error-free content will keep visitors on your pages longer, and will encourage search engines to rank your pages higher in the SERPs (Search Engine Result Pages).
Optimize Page URLs
Optimizing page URLs is another important on-page SEO pointers to boost the page ranking. Inserting keywords into your page URLs is a great way to attract search engine traffic, aid bots in the indexing process, and make your pages' web addresses more memorable to visitors. You can change the name of the URL by editing this information within your site directory in your hosting file manager, or you can automate the process of creating URLs that contain page titles (which should also contain your keywords) within WordPress by changing the Permalink option under Settings to /%postname%.html.
Apply a Balance of Dofollow and Nofollow to Your Outgoing Links
The Dofollow and Nofollow attributes can be added to outgoing links in order to instruct search engines on whether or not to follow that link. Although many webmasters apply a Nofollow attribute to all outgoing links with the belief that doing so will help their site retain its ranking authority, having nothing but Nofollow links looks unnatural and therefore may result in penalization. In fact,  it is beneficial to apply a Dofollow attribute to all links that lead to trusted websites, and apply a Nofollow attribute to links that lead to untrusted or unauthoritative sites.
So, follow these 10 On-Page SEO Pointers and it will automatically boost the ranking of your website.