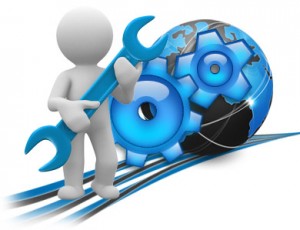 Regardless of whether you are an inexperienced novice who just started designing websites, or an experienced programmer who is proficient in various coding languages, your job as a webmaster can be drastically simplified through the use of certain tools and resources. Long gone are the days of manual website construction, as even the pros have resorted to taking shortcuts through WYSIWYG (What You See Is What You Get) visual editors in order to save time and reduce effort. Aside from just making your job easier, the following five web design applications/resources will also improve the look and feel of your websites:
Content Management Systems (WordPress, Joomla, Drupal etc)
(Note: If you're already aware of the greatness of content management systems, feel free to skip ahead.)
Content management systems (CMS) have revolutionized the way webmasters create and maintain sites by providing centralized control panels in which design themes and content can be edited, published, optimized, and organized with ease. The most popular CMS is WordPress, and for good reason – it contains a user-friendly interface that anyone can learn to navigate in just a couple of minutes, it's open-source structure means it can be modified and expanded upon by any skilled developer, and it is accompanied by a massive library of thousands of plugins that can be used to extend and enhance functionality.
You can use plugins to automate and simplify the process of performing a plethora of  on-page SEO-related tasks, ensuring the quality of all outgoing links, interlinking internal pages, and a wide variety of other site maintenance duties. However, the most notable advantage CMS offer in regards to aesthetic appeal is that they allow you to change the design of your entire site using predesigned themes that can be applied with a few clicks of the mouse. Furthermore, you can use these template-based themes to redesign a site without affecting its written content or navigational menus. If you've been outsourcing your web design projects to freelancers, you should strongly consider the advantages of doing it yourself using a CMS.
Artisteer
Once you've started using a CMS to design and create your website, you'll probably notice that although there are thousands of themes available, none of them are quite what you're looking for. Fortunately, you can begin designing custom themes that can be installed in your CMS using Artisteer, a powerful design application that eliminates the need to learn any type of programming. Perhaps the most beneficial aspect of this software is that it lets you create themes for all three of the most popular CMS (WordPress, Joomla!, and Drupal). Using this program to create a custom website is as simple as using Microsoft Word or Paint, as all of the features can be accessed via self-explanatory button icons located in a convenient toolbar at the top. It's not an exaggeration to say that even the most inexperienced computer user can be creating professional-looking websites within 1 to 2 hours using this software.
Royalty-Free Stock Images and Vectors
This is one of the best web design applications for the novice. As a novice web designer, you'll probably have trouble expressing your creative ideas unless you have access to an extensive library of royalty-free photos and vector images. Vectors are icons/symbols that are commonly used to create bullet points, link buttons, and other visual page elements. Luckily, you don't have to spend thousands of dollars to have access to an extensive amount of infographics, illustrations, icons, and stock images that can be used in your web design endeavors, as you can simply pay for a monthly membership to one of the many online graphics libraries. A few good choices that come to mind include VectorStock.com, VectorPortal.com and iStockPhoto.com. With access to imagery that pertains to just about every topic you can imagine your creativity will be unrestricted, and you can begin creating page headers, backgrounds, footers, pop-up windows, and elements that are both effective and aesthetically stunning. Furthermore, incorporating graphics into a WYSIWYG program like Artisteer is as simple as using the import function and positioning the images to your liking.
SWiSH Flash Editor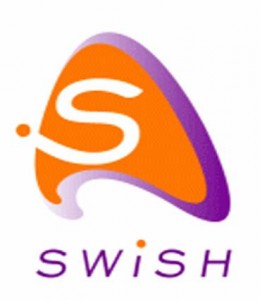 Flash animations are a great way to captivate your visitors, portray professionalism, and convey messages/key sales points in a visually appealing way.  SWiSH Flash Editor makes it easy for anyone to create awe-inspiring animations in a step-by-step guided process. This software includes more than 380 preset multimedia effects and 300 premade components/vector shapes that can be modified and inserted into custom flash animations with ease. You can even use the morphing feature to transform the premade shapes into entirely new creations, and utilize filters/blend effects to apply blur and glow to components. Although this program is slightly more difficult to use than Artisteer, it is by far the easiest way to create highly advanced attention-grabbing flash animations. You can export your creations to a variety of output types, including flash, .exe, video, .gif, or image sequence formats. If you don't want to create something from scratch you can use one of the many predesigned templates that give you excellent starting points to work from.
CoffeeCup Visual Site Designer
If you decide not to use a content management system and would rather build your website using individual HTML/PHP pages you can still do so without any professional training using CoffeeCup Visual Site Designer. This web design applications is an excellent choice for anyone who wants to learn to program leisurely, yet still wants to be able to create websites before they're fully educated, as you can quickly switch from a visual view to a manual HTML view to see how elements are coded when you change specific aspects of the page. In other words, if you want to learn how to do something with HTML, simply use the visual editor to apply the desired changes, and then view the changes in HTML mode to understand how the coding works. Visual Site Designer includes a built-in FTP (file transfer protocol) client so you can quickly upload changes to your web server within an integrated interface. A variety of preloaded images and page layouts give you excellent starting points for your projects.