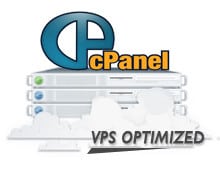 Your VPS account should be supported with a control panel which assures a strong control of your account and easy administration of the websites hosted. When it comes to Virtual Private Server Hosting, there are 3 major control panels to choose from- cPanel, Plesk & Webmin. The following post would brief on the chief features of each of the mentioned control panels.
cPanel
It is practically synonymous with the web hosting control panels today and is considered as most popular between all control panels available for the VPS accounts. The cPanel WHM VPS can be referred to as the proprietary control panel for website hosting designed for the Unix-like devices. It's scaleable for multi-accounts & could be utilized in transferring sites & other different information between the cPanel accounts.
Its features:
cPanel is a thoroughly commercial product and its charges are based on an annual licensing model.
The cPanel installation procedure highly customizes host server & must be run on a new installed OS since otherwise the existing data would be lost or overwritten. The installation gets deeply enmeshed in the host file and hence can't be removed easily, without hard drive reformat. As a result, the cPanel users have to go for cPanel compliant versions or applications always as otherwise he can lose many of its core services.
cPanel uses a site creating Wizard which can automate site creation. cpanel also helps in the automatic installation of many additional features which in turn leads to a quick site creation.
Thanks to its intuitive design, cPanel is really fast and efficient on maximum servers. It doesn't require backend support from external databases.
cPanel uses EasyApache that enables extremely straightforward version updates or module addition with PHP and Apache.
cPanel offers with highly functional features and could be integrated with numerous add-on applications.
cpanel looks professional, efficient and slick which supports it with fantastic resell value. Moreover, cPanel provides the user with hosting packages and the ability to delete and suspend accounts as well as monitor the resource usage which elevates its resell value further.
cPanel is solely available for the Linux platforms. It restricts customers with WindowsVPShosting
cPanel demands a tedious maintenance
Plesk
Plesk is another popular Virtual private server hosting control panel, supported by Linux and Windows. It is the fastest amidst full-featured control panels for VPS hosting and several Plesk servers could be managed from a single interface that simplifies complicated hosting management.
Its features:
It's recognized for its cluster functionality and the user just needs to sign in with one console to manage database, web & FTP servers
Plesk supports both Linux and Windows and thus here the web host can serve a varied range of clientele
Plesk can integrate seamlessly with varied Windows services & technologies like Microsoft SQL
Plesk won't integrate with non-Microsoft 3rd party applications, unlike cPanel.
Plesk is really sluggish and slow, especially for Linux
No support for the reseller hosting
Webmin
Webmin is another reputed control panel and enables configuration of several internals for the OS like configuration files, disk quotas, users & more. It also helps in regulating different open-source applications like MySQL, Apache HTTP and PHP.
Its features:
It's a free panel intended primarily for the Unix-like systems.
Easy and quick installation, and could be installed with maximum Debjan and Red Hat systems.
Automation is hardly possible and hence the different servers like DNS, Apache, MySQL has to be configured individually to add the sites to server, especially while you are hosting multiple sites.
Webmin can manage all the tasks related to server management, sans command line.
Webmin could be reinstalled or uninstalled without affecting the configured sites since all its administration tasks use existing file. It makes no alteration to the host OS.
Very unattractive control panel which reduces resell value.
Thus from the above discussion it seems that cPanel is the most efficient of all 3 VPS control panels with easy automation, highly functional features, intuitive design and attractive interface. But its Linux specific feature is a serious disadvantage where Plesk gets a winning edge as it is compliant with both Windows and Linux. In case, you are tight on your budget and won't mind individual configuration of different servers, Webmin would be a good solution.